Startup DNA
Ulan founders founded 4 startups 2 with success. After they learned to make products from A to Z by investing their money, they founded Ulan. Although previously they were responsible for projects up to £ 1bn. Why? To offer the highest quality product, service, and fundamental knowledge from the beginning.

Passion to products
We were interested in creating products, scalable businesses, gaining traction, and understanding user reactions to our products... We call all of these skills "building products" - coding is just not enough.

Company culture
Everyone in the Ulan team is here because they want to be here because we like to work together and exchange ideas and knowledge. Ulan's culture is one of the strong foundations of the values ​​that we give to our clients. It is the heart put into every product we create.

Agile like an Ulan
Ulan comes from "Ulan Cavalry" from our grandmother's name "Ulanowski" and from Agility of the IT projects ... We strongly believe in Agile, we know that good project management in this methodology brings us closer to success. We've learned Agile in the most demanding conditions - massive and successfully implemented projects for Financial Institutions and our startups.

Efficiency
Efficiency is part of our culture, but we consider it so important that it cannot be sewn into it. Only respect for the projects and money of our clients allows us to provide services so that we can leave our work satisfied and willing to come back to it every day. To a large extent, it manifests itself in our effectiveness, which is our KPI.

Service and relations
The best service and lasting, close, transparent relationships with our customers are the foundations for excellent cooperation and achieving above-average results. We always make sure that our collaboration is precisely like that in each project.
Co-founder and CEO
Karol
Andruszków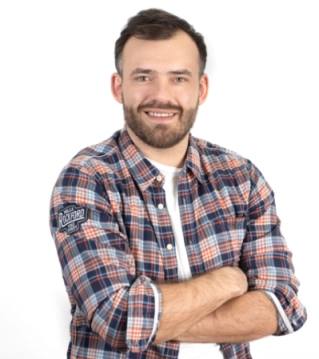 Karol Andruszków (CEO ULAN SOFTWARE and CEO BOWWE.com) – 38 years old. Serial entrepreneur - founded successfully 7 SME companies. Master in 2 degrees Computer Science and Marketing Management which he studied and finished on Wrocław University of Technology and Universidade Nova de Lisboa.
He has +7 years of experience in Polish, Spanish and Portuguese Banking sector during which he was working in startegic projects for such financial institutions like Millennium Bank, Banco Espirito Santo, PKO BP, Bank Pocztowy. He is International Finance Corporation (World Bank Group) speaker in the online business and eCommerce matters.
Karol has +11 years in SME eCommerce sector. He advised to +500 SME Companies from +15 countries mainly Poland, USA, UK and Portugal.
Karol is Co-founder of three start-ups and was team leader of one startup. Three of these start-ups are alive and growing. Karol spent a long time in Silicon Valley gaining experience and learning from the best experts on how to develop start-ups and grow international business online.
Wojciech Andruszków (CTO ULAN SOFTWARE and CTO BOWWE) - 40 years old. Serial entrepreneur - founded successfully 7 SME companies. Master in 2 degrees - 1 in Computer Science and 1 in Finances Management which he studied and finished at Wrocław University of Technology.
He has +10 years of experience in the British and Banking sector. He worked on strategic projects for financial institutions like Standard Chartered Bank, UBS, RBS, PKO Bank Polski S. A., Bank Pocztowy, and NatWest.
Wojtek has over 19 years of experience in programming. For over 14 years, he has been a leader and architect in strategic projects of the largest financial institutions. He was responsible for projects worth over £1 billion.
Wojtek is CTO at Ulan Software and at BOWWE. At Ulan Software, he is responsible for designing the architecture of our projects. At BOWWE, he has designed and developed one of the best no-code and low-code solutions, used by tens of thousands of users worldwide, and he creates various IT products that match the quality of the generated code with high-class specialists.
Co-founder and CTO
Wojciech
Andruszków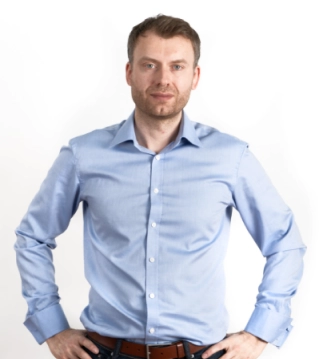 Co-founder and VP
Jacob
Bihun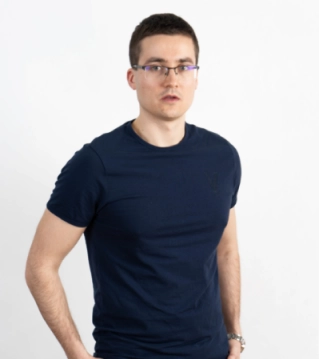 Kuba has a master's degree in Robotics science and postgraduate studies in business. Passionate about rockets and building robots. +5 years of experience as a software developer. +5 years as a startup founder. He is a co-founder and VP of two companies and COO of a fast-growing global startup.
Kuba graduated from Wroclaw University of Science and Technology, studying Control Engineering and Robotics faculty. He has a Master's degree in Robotics science. He also graduated with postgraduate business studies specializing in building and scaling technology startups. He has built two real robots from scratch.
He has worked for Nokia as a software developer for 2.5 years. His main responsibility was developing algorithms and maintaining the code in C/C++, solving client problems, and developing new features for LTE technology. Then he decided to start his entrepreneurial career. He founded two companies before his 30th birthday. One of his ventures is successful, and hundreds of thousands of clients choose to buy his products each year.
Business-oriented entrepreneur with a deep technical background. Main specialization regarding technology is software development: Vuejs, Nodejs, Java, C, C++, Microservices, and artificial intelligence business solutions: Machine learning, Deep learning.